ACTIVE Network API Developer Blog
HACKTIVE, part of the ACTIVE Next program, was a big success and the first ever event of its kind for ACTIVE, which allowed the public to participate in a company event. Nearly 50 developers joined us over the weekend to hack ACTIVE's APIs. Saturday morning kicked-off with a keynote from Mark Roebke, Director of Product Innovation at ACTIVE and the brain behind the ACTIVE Next Program. Mark got participants revved up with stories of innovation before the judges were introduced
We had an all-star line-up that included industry leaders from: Mashery, Yahoo!, Aetna, TAO Venture Capital Partners and ACTIVE. The competition started at noon and contestants had 24-hours to develop an original app that was relevant to the theme of getting more people active. Teams came pouring into Co-Merge in downtown San Diego, CA to get setup and find a spot to start hacking. They had help from Neil Mansilla, Director of Developer Platform & Partnerships at Mashery, Cheston Contaoi, President of Driveframe LLC, and Jarred Doss, Product Manager & Developer Evangelist at ACTIVE, who coached and supported contestants through the initial stages of inception, creation and design. They did a great job motivating developers and helping them polish their hacks to prepare for final presentations.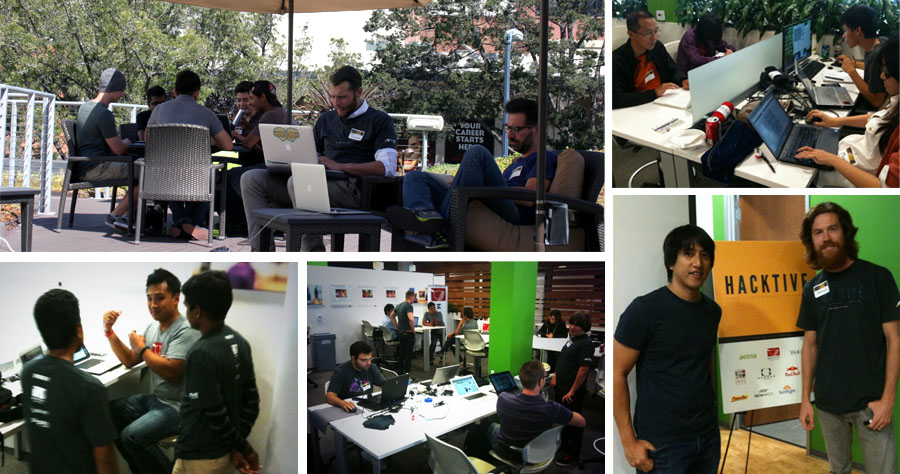 Hackers were doing everything they could to stay awake and comfortable through the 24-hour competition. As the hours passed, snuggies and onesies were used to keep comfy, while others decided to load up on cardiac arrest-enducing amounts of energy drinks.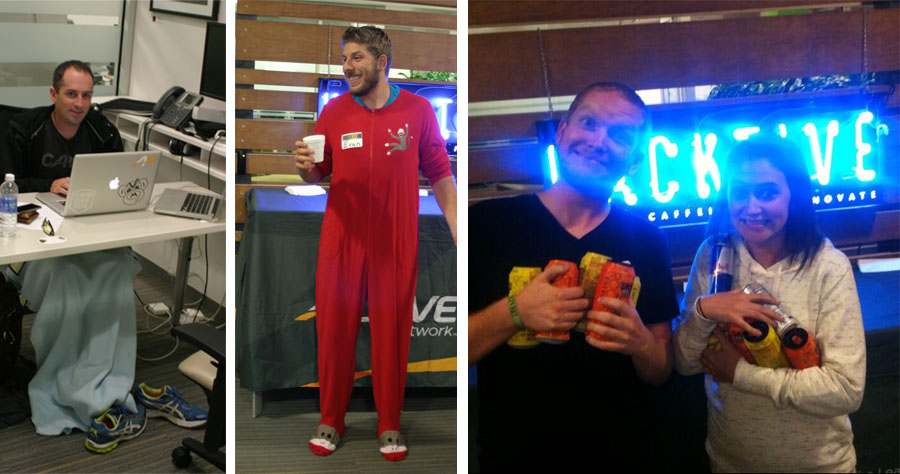 The hackathon proved too much for event emcee, Jon Christopher. He couldnt hack it and fell asleep under the warm glow of the neon HACKTIVE sign. HACKTIVE coach, Cheston Contaoi, and hacker, Eric Johnson, balanced Oreo cookies on thier faces just for fun. Watch the video to find out what really happened - Cheston & Eric. There was even a visit from the ghost of HACKTIVE future. There were a few teams that continued to hack all through the night without any shut-eye.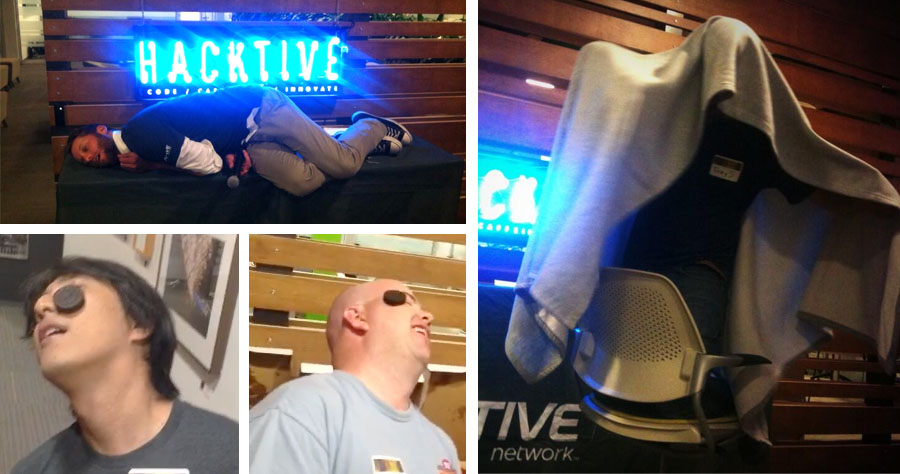 On Sunday morning, teams begin to focus on finishing up their apps and preparing their presentations. At noon, the contestants presented their apps to the judges. There was an interesting mix of ideas, from getting gamers more active to using activity data to make romantic connections. Winners included:

ACTIVE Staff:
1st place: ACTIVE Graph

Created by Tyler Clemens, Eric Johnson, Trey Gorman & Kevin Brinkley (from left to right in photo below). Social networks like Facebook are mapping the social graph. ACTIVE Network has the ability to take this a step further and map the activity graph--the relationships between users, their friends, their interests, and the activities in which they participate. Making this graph available across the organization as an enterprise service, using a graph database like Neo4J, opens up a whole new category of connections that can be explored. Two applications of the graph were demonstrated: 1) recommending networking or meet-up opportunities at an event based on these connections and 2) making targeted event recommendations to users based on friends' interests and activities. Mapping these new connections allows event organizers, media, and ACTIVE Network the ability to leverage this new data to create valuable market opportunities across all of ACTIVE's platforms.

2nd place: Spark

Created by Caitlin Goldman, Jared Planter & Evan Witte (from left to right in photo below). Spark YOUR Training, Spark YOUR Life. This app allows users to create a profile, add interests and event history, and search for events using ACTIVE's Activity Search API. It gives you the ability to connect with other users that have similar interests and automatically drives romantic connections based on your 'spark' potential. Based on the average user spend in the online dating community, this has huge market value if executed correctly.

3rd place: ACTIVE Analyze

Created by Bob Charapata, Daniel Middleton, Jeff Sample & Ryan Sappenfield (no photo, remote team). An Active Network Intranet web application leveraging Microsoft SharePoint self-service business intelligence tools to analyze obesity rates vs. activity participation and other health data. The application queries, in real-time, Active and Mashery API's to return results that are then transformed and loaded into a data model. Users can then create reports and visualizations using a variety of end user BI tools, including; Excel, Power View, Power Pivot and a new Power Map 3D map tool. This data can be used to find new business insights and market opportunities for ACTIVE Network.

Non-Collegiate:
1st place: Sports & Dating

Created by Bo Li. Sports & Dating is an activity-based dating app, matching singles through sports. Presents your favorite sporting events in the map via the ACTIVE Activity Search API, see how many potential matches have joined the event, then see who is going to the event you are interested in and connecting with others. This app will help to make a dating decision easy and instantly. This will also maximize your chance of meeting someone at an event.

2nd place: Get me ACTIVE!

Created by Joel Drotleff. Fully native iOS 7-optimized app to help people search for activities near them, such as biking, little league, running, and more. Makes it easy to visualize events with topic icons on a map (i.e. runner icon for running type events). Once the user has been to an event, they can reward themselves with a badge and picture to remember their accomplishment.

3rd place: Phat ACTIVE

Created by Bret Stateham. Allows users to find events, invite their friends, and then challenge them to a distance run prior to the event. Integrates fitness tracking devices to track challenges prior to the event.

Collegiate:
1st place: ACTIVE Calendar

Created by Hoa Mai & Nhu-Quynh Liu. Active Calendar allows the user to search for active events on specific dates by simply clicking a day and entering their search keywords. Future plans to integrate external calendars (iCal, Google Calendar, etc) to allow users to plan their activities around their busy lives.

2nd place: ActiBar

Created by Pablo Jacome, Yevgeniy Galipchak, Atyansh Jaiswal, Wonsik Min & Alexander Saavedra (from left to right in photo below - Alexander Saavedra was unable to attend the demo). A simple browser add-on or application that makes it easier for the user to find local physical activities that may range from marathon runs, to simple pickup games in various sports. The user will be able to customize their news feed of activities through a series of personalization questionnaires, in which different activities will be presented depending on the time and location of the user.

3rd place: ACTIVE IT

Created by Vyshakh Babji & Bharath MylarappaConnect with people around you instantly. Match your interests, contact people in realtime and have fun. Sends an SMS text message when other users signup and select a similar event in your area. Be ACTIVE with others!!!
Mashery Prize:
The Mashery Prize was won by & Ronad Castillo for effectively using one of the Mashery API Network APIs to build ACTIVEnieghbor - an app that allows users to connect with like-minded individuals within a certain radius that share a similar fitness goal and schedule a time to workout. User-created events are mixed with ACTIVE Network's events and users are gouged into persistent/anonymous chat to discuss goals and schedule a time to train. The app notifies all users and schedules the events on their calendars allowing for organic social growth based on proximity.
Aaron Waldman also won the Mashery Prize for creating the ACTIVE Leaderboard. His app takes a

new look at race results. Now organized into a leaderboard with the users Facebook friends, pulling in their race results for comparison. Now you can compare your fastest 5k against your friends, or at the same event.
You can view all the app submissions online at ChallengePost.
Special thanks the sponsors of the event and the guest judges, Erik Suhonen, Jesse Givens, Neil Mansilla, Tom Clancy, and Mark Roebke for offering your expertise and guidance. Of course, a huge thanks to everyone that participated! We couldn't have made the event a success without the hackers. This beta event gave us a lot of key learnings that will allow us to replicate the model and host a global hackathon in the future.
You can view all the photos and videos here: http://www.flickr.com/photos/103184269@N08/